Sign Language App for Children and Beginners
Sign language is an essential tool for children who are deaf or hard of hearing to communicate with the world around them. It can also be a fun and engaging way for hearing children to learn a new language and improve their communication and social skills. With the rise of mobile technology, there are now many sign language apps available that can make learning sign language more accessible and convenient for children. Our favirite is ASL-kids 😉
Why should I use a Sign Language app?
By utilizing the visual, auditory, and tactile senses, apps can greatly enhance children's learning and aid in their retention of new information. An app like ASL Kids, which focuses on American Sign Language, can play a crucial role in increasing parental involvement in the rehabilitation process for children with special needs. By providing an interactive and engaging platform for learning, ASL Kids can not only improve the child's communication skills but also foster a stronger bond between parent and child. Furthermore, the app's focus on American Sign Language allows children with hearing impairments or speech difficulties to communicate more effectively and independently. Overall, ASL Kids is a valuable tool for supporting the development and growth of children with special needs.
About the Sign Language App
Get the whole family excited about learning American Sign Language (ASL) by watching other kids sign! The ASL experts in our app are between the ages of 1 and 12, and they teach you common signs from the ASL dictionary and baby sign language. All hand signs, furthermore, are accompanied by a large image and a sample button designed to stimulate speech and hearing.
This free sign language app has all the functionality you can imagine, including quiz games and 21 free signs. An optional pack of 50 more signs is available to help you increase your knowledge of ASL.
Important Message for Parents and Teachers
NO Direct links to social networking websites. NO ads. Parents have the option to monitor and control all in-app purchases.
Why this app?
When we found out our son had hearing loss, our whole family was eager to learn sign language. That was when we discovered that our kids benefited from interactive visual material. However, it was hard to find suitable apps on signing specifically designed for kids. The next thing we knew, we had decided to design one ourselves.
How do children learn best? By imitating other kids! My son loves this app, and I hope you will too.
How does it work?
The app is kid-proof and was designed to be used without the help of an adult. There are no external links or ads, so no internet connection is needed to work the app. While there is no complex text, kids will have no issues navigating our clear and tappable images.
Support
We are dedicated to creating and expanding a high-quality app that unlocks your child's learning potential in a fun way.
Looking for more tips for improvement, please email us at info@asl-kids.com
Follow us on Facebook: https://www.facebook.com/ASLkids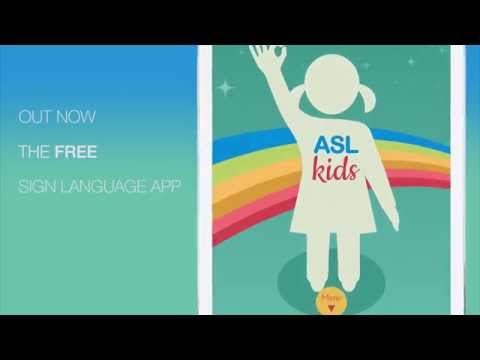 App features
Peer role models
How do children learn best? By imitating other kids!
Intuitive interface
No need to read. Clear tappeble images
Easy signs
Carefully selected signs that are easy for children to master
fun
Includes an interactive quiz game to test knowledge
No ads or ext. Links
No internet connection required after download
Video
Videos can be (re)played by tapping them
Easy navigation
Simple menu and buttons for easy browsing
Audio
Separate audio button to hear how a word is pronounced
FAQ
Who is this app for?
For kids aged 1 to 11. For children of any age or adults wanting to learn American Sign Language (ASL).
Some of my signs are gone after updating?
Thank you for supporting us! Use the <Restore previous purchases> button in the Info page in the app. Problems? Contact us and we'll fix it.
Can't find previously purchased or downloaded apps
If you're being asked to purchase an app that you already bought on Google Play, make sure you're signed in to the same account as when you made your purchase.
What is so special about this app?
Kids can use the app without adult supervision. For kids by kids. Contains quality videos, images and separate audio speech samples.
I learned a different sign for that word?
Some words have regional variations across the regions of North America.
Why is landscape mode not working?
We did this on purpose because the dimensions of the videos and images are suboptimal in landscape mode.
Is there an iPhone and Android version available?
Yes, Iphone 4 and later are supported. Android 4.0 and above is supported.[/vc_column_text][vc_column_text]learn sign language online or through sign language books?
There are many free online resources available to you. We have some tips on learning sign language on this website. If you want to learn more words online, Handspeak and ASLU are good resources. Some prefer books. We've listed the best ASL books for kids for you: Sign language books[/vc_column_text][vc_column_text]
Contact Us
If you have questions, feedback or support inquiries, please contact us. We'll get back to you as soon as possible.