What are the best Sign Language Books?
A great way to learn sign language is to get one or two simple sign language books to get you and your family started. Once you have finished them, you can give them to friends (those with whom you want to communicate using ASL) and spread the use of sign language. There are numerous good ASL books available. However, not all of them are appealing to children. So, what are the best Sign Language Books? We have made a selection of popular Sign language books on Amazon that are appropriate for kids based on their reviews and by reading some of them.They offer a variety of resources such as illustrations, pictures, and videos that help teach sign language in an interactive and fun way for kids. They also provide a wide range of signs that are commonly used in everyday life and are easy for kids to learn and remember. Additionally, these books are reviewed by parents, teachers, and other experts in the field of American Sign Language.
The Gallaudet Children's Dictionary of American Sign Language
The book I recommend the most is this ASL Children's Dictionary by Gallaudet University Press. This book gets the seal of approval from all ASL interpreters I know and receives great reviews from customers almost exclusively. It features more than 1000 colorful drawings and includes a searchable DVD. The DVD displays young native signers demonstrating each sign plus 150 ASL sentences. In my opinion, this is the best book for learning sign language. Check the latest price
Sign Language: My First 100 Words
A great book to start with is "Sign Language: My First 100 Words" by Michiyo Nelson (Paperback, 2008). It is a small and concise book containing 100 words divided into categories (including feelings). The pictures are cute and colorful and do not intimidate a new learner.
For some signs, it is helpful to have an experienced signer around to demonstrate the sign. We feel that this is the case with more books/pictures because it is difficult to "capture" some motions into an illustration (disadvantage of print). A good book for a reasonable price.
Get your Sign Language: My First 100 Words
Sign Language Books for Babies
Sign language is not just a technique applied to people who have a disability in speaking or hearing, but also to hearing babies. Sign language is becoming one of the most widely used languages globally due to the increasing number of people who are challenged with speaking and hearing. While teaching sign language to disabled adults is different from teaching it to babies, it is still an important tool for communication.
The best time to teach sign language to babies is between the ages of 6-35 months. This age range is when babies are most receptive to learning new skills and can facilitate efficient communication between parent and child. Babies who are equipped with the power of sign language have an advantage in terms of mental and physical capabilities. Using early sign language enables them to experience effective communication at an early stage and they are also less prone to frustration and outbursts caused by unsuccessful communication. Within the first three years of a baby's life, using sign language is extremely helpful. After this period, the baby will then acquire the verbal form of the language.
Allowing a baby to learn baby sign language will improve their speech ability. It is in this regard that kids who were taught sign language are able to cope better with extreme social changes in the community as they grow up.
Baby Sign Language Made Easy: 101 Signs to Start Communicating with Your Child Now (Baby Sign Language Guides)
A great book by Lane Rebelo that has almost 10.000 very positive reviews. It has 101 useful, everyday ASL signs and a clear, simple format that explains what signs are best to start with and tips for teaching them.
Check the latest price
Baby Sign Language Book for Hearing Babies and Toddlers
Another great book for babies and kids that can hear is this updated book: Baby Sign Language Basics – Early Communication for Hearing Babies and Toddlers by Monta Z. Briant. The book comes with games, and songs, to make learning fun. Check the latest price
SIGN with your BABY

A great book, well…it's much more than just a book, is SIGN with your BABY – Quick Start Baby Sign Language (ASL) Kit. It includes a book containing 150 signs, a how-to DVD, and a quick reference guide. This book has been reviewed by almost 200 people, almost all very positive. Although the book title suggests it is only for babies, it can be very useful for young kids who are new to signing. It provides a good start in American Sign Language. The DVD spends more time explaining the benefits of signing than the actual signs but is still informative. Get SIGN with your BABY – Quick Start Baby Sign Language (ASL) Kit: Includes Book, How-to DVD, Quick Reference Guide on Amazon.
American Sign Language Flash Cards

Another fun way to learn is by using Flash Cards for Toddlers and Beginners – 180 ASL Flash Cards for Babies, Toddlers, and Kids. ASL ABC Flash Cards Include Starter, Vocab, and Common Sight Words. ASL Cards
Get the latest price
DVD
This DVD teaches your youngster more than 400 ASL words. Get all 13 DVDs from Series One in one handy case. Currently, it's very easy to take Signing Time anywhere you go! This set of educational video clips helps improve vocabulary, punctuation, and reading skills! This collection consists of thirteen DVDs in one economical case. Check the latest price
How do you sign Book in ASL?
The sign for Book is done by putting your hands together as if you clap your hands, and then opening your hands as if you are opening a book.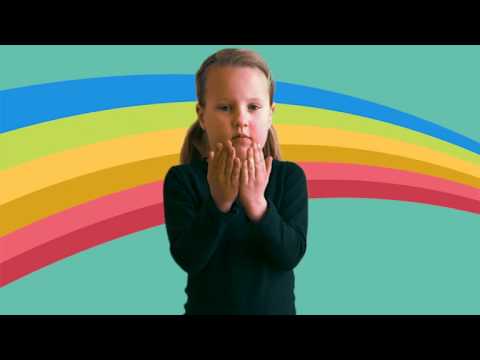 While you are waiting for your book to get delivered, install the ASL-kids app on your iPhone, iPad, or Android and start learning the first signs for free!